Frequently Asked Questions (FAQ)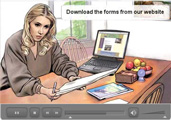 Running time: 3-1/2 Minutes
According to the American Physical Therapy Association (APTA), physical therapists are experts in "the science of healing and the art of caring." Physical therapy is the practice of rehabilitative medicine that uses various techniques and equipment to help control pain, develops strength and regains your ability to move freely, confidently and achieve your overall physical and fitness goals.
You will review and complete your admission paperwork and address any insurance concerns you may have. You will then meet with your physical therapist (PT) to discuss and assess the problem that you are being seen for. The therapist will take a history, have you perform some movement tests or demonstrate the problems related to you diagnosis, check mobility, strength and other tests. Based on those findings and your needs a plan will be developed to help you achieve pain control, improve mobility and develop a program to get you on the road to recovery. If appropriate you will be given exercises or other treatments on your first visit as well.
Please remember to bring your prescription for physical therapy, insurance information (we will take a copy of your card and a picture ID), any contact names, phone numbers and claim number. If you have any special instructions or other documents including testing reports, please bring them with you as well.
You should wear comfortable, loose-fitting clothing in order to properly assess the area to be treated. For Example: if you are coming in for knee pain, please bring or wear shorts, or loose pants that can be pulled up over the knee or a tank top if we need to see a shoulder. Sneakers or other supportive shoes may be appropriate as well.
This will be determined once your assessment is completed. Each person's needs will differ. Your therapist will discuss with you what type, duration and frequency of care will be appropriate for your individual program.
Treatments will of course vary based on your condition. Treatments may consist of a combination of the following:
Manual therapy: treatment in which the PT moves, stretches massages and manipulates a body area with their hands. These techniques include joint mobilization, myofascial release, stretching and soft tissue mobilization to name a few.
Therapeutic exercise: a program of many types of exercises developed for your individual needs. Exercises could consist of strengthening, stretching, postural, endurance or relaxation exercises.
Modalities: modalities are treatments that utilize machines, heat, cold, etc to manage pain swelling or other problems. They include ultrasound, electrical stimulation, iontophoresis, mechanical traction, hot and cold packs.
There are many other treatments that may be used but these are our most frequently used interventions.
Although RI law allows you to directly access a physical therapist for treatment, your insurance plan may require a specific referral to be made by a doctor. If you do not have a referral or prescription, we can facilitate one through our free screening process if necessary.
Yes most insurance companies do cover PT services. Our office staff will contact your insurance company to determine the type of PT coverage you have. They will also determine if your coverage has any visit limits or other restrictions to access physical therapy.
Insurance companies will manage your care based on how well you are progressing in treatment. You may need to complete additional paperwork for the insurance company to review. Based on that information they will allow a certain number of visits or treatments to be used. At the completion of those treatments either you or your PT will need to complete the forms again or submit updated data for the insurance company to review. The insurance company will then determine if further care is necessary.
No. Many insurance companies will not pay for treatment from a chiropractor and a physical therapist on the same day. Also when having both types of treatment on the same day it may be difficult for you, the chiropractor and/or the PT to determine what treatments are helping or effective.
Everyone encounters unforeseen issues that may require that you cancel an appointment. If this happens, a make-up appointment should be scheduled within that same week. Prescriptions for physical therapy are just like prescriptions for medication; you must adhere to the frequency of physical therapy just like you would dosage of medication in order for it to be effective. If a patient doesn't come in for their appointments, our therapists can't help them to get better.
Here at Tru-Care Physical Therapy we pride ourselves on running on time for our clients. If you are late to an appointment, our therapists will attempt to see you if at all possible. However, if your individual treatment plan does not allow for modified physical therapy session, you might be asked to reschedule.
A deductible is the set amount that a patient must pay prior to their health insurance benefits become activated. This deductible could be calendar year or policy year depending upon the individual policy. If you are not sure of your benefits we will contact the company for your current status.
A co pay is the set amount that is paid to the provider each visit by the patient. It is a flat fee and does not change session to session.
Co-insurance is the amount a patient pays when their benefit is based on a percentage of coverage. For example, 80/20 benefit would be insurance pays 80% of the covered charge while the patient is responsible for 20% of the covered charge. This could vary from visit to visit depending on what treatments were done in a session.
Some insurance policies have this feature. Simply put it is the amount that a patient has to pay out of their own pocket including deductible, co pays, and coinsurances before the insurance company pays claims at 100%. For example, if a patient has a $3000.00 out-of-pocket maximum, once they have paid that in their specific policy year, the insurance company will then pay any claim after that at 100% no co pay or coinsurance applies. This would begin again at the beginning of each specific policy year.
If you have any other questions that have not been answered here you can contact our office staff at any time to have them answered.